Can Essential Oils Hurt Your Gecko? (25 They Hate!)
Nowadays, diffusers and essential oils equate to peace and relaxation for people so will it have the same effect on our geckos, either crested or leopard? There seems to be a great debate on this topic in the reptile-keeping community, so what's the truth?
Essential oil should not be used on geckos as it can harm them if not used carefully causing mainly triggering skin irritations. Though a small number of experts report the healing effects of highly diluted medical-grade essential oils, like frankincense, its overall effects on geckos and animals, in general, are largely unknown.
So should you have aromatherapy sessions together with your geckos? Or should you keep it as far away from them as possible? Let's find out what experts know about essential oils and reptiles!
What is an Essential Oil? (How is It Made?)
Essential oil is a natural oil product that is extracted from plants. This gives a plant its distinct taste and fragrance. Each plant has a unique chemical composition, typically made up of hundreds of different natural chemical compounds. The common methods used to extract essential oils are distillation, expression, and supercritical fluid extraction.
For plants, essential oils are highly beneficial [1]. These help plants heal physical wounds, prevent infections, and repel unwelcome insects and animals such as reptiles. As such, many are interested in knowing how beneficial it can be for us and our pets as well.
Essential oils may be obtained from one or more of the plant materials:
Flowers
Fruits
Nuts
Seeds
Leaves
Stems
Bark
Wood
Root
Find out which plants are safe in our article on making bioactive tank substrates.
Once the appropriate plant materials have been collected, they are commonly air-dried first. Then, it gets processed to produce essential oil. Different extraction methods will also have varying effects on the collected essential oil.
1. Distillation
During distillation, the plant will either get heated while in water or steamed. The resulting vapor will then go through a condenser to cool down and turn into the liquid form of essential oil—ready to be bottled up.
Learn more about vapors and volatiles in our article on reptiles and Christmas trees.
2. Expression
For citrus fruits, essential oils are typically collected by expression. The rinds of fruits like lemon are first punctured and/or scraped, then cold-pressed. After that, the extracted juice and oil are placed into a centrifuge to isolate the essential oil.
3. Supercritical Fluid Extraction
This is generally used to make high-grade essential oils, closely resembling the natural composition of the live plant. In supercritical fluid extraction, CO2 is liquidized and used as an extraction solvent to produce a thick and concentrated essential oil.
53 Essential Oils and Their Harmful Effects on Geckos
Some veterinary practitioners have reported positive outcomes from using essential oils for medical treatments with geckos and reptiles in general. However, these have yet to be validated by research. More importantly, there are multiple risks to using essential oils on geckos including, but not limited to, dermatitis and toxicity.
The discussion on using essential oils near and directly on our scaly babies is still quite heated. One side vehemently objects to essential oils, while the others speak high praises for them. Here, I'll show you both sides of the argument.
Check out the table below to learn about the good and bad potential effects 53 different essential oils have on your gecko [2]!
Essential Oil
Potential Dangers
1. Angelica
(Angelica archangelica)
Skin irritation
2. Anise
(Pimpinella anisum)
Skin irritation
Inhibit blood clotting
Seizures
Brain damage
Carcinogenic
3. Bergamot
(Citrus bergamia)
Dermatitis
Phototoxic
Photocarcinogenic
4. Black Pepper
(Piper nigrum)
Skin irritation
5. Black Spruce
(Picea mariana)
Skin irritation
6. Cardamom
(Elettaria cardamomum)
Breathing problems
7. Cedarwood
(Cedrus spp.)
Skin irritation
8. Chamomile
(Chamaemelum nobile)
Skin irritation
9. Cinnamon
(Cinnamomum verum)
Skin irritation
Dermatitis
Mucous membrane irritation
Inhibit blood clotting
Embryotoxic
10. Citronella
(Cymbopogon nardus)
Skin irritation
Dermatitis
11. Clove
(Syzygium aromaticum)
Skin irritation
Mucous membrane irritation
Inhibit blood clotting
Central nervous system depression
Embryotoxic
12. Copaiba
(Copaifera langsdorfii)
Skin irritation
13. Coriander
(Coriandrum sativum)
Skin irritation
14. Cypress
(Cupressus sempervirens)
Skin irritation
15. Eucalyptus
(Eucalyptus camaldulensis)
Breathing problems
Central nervous system depression
Seizures
16. Fir
(Abies spp.)
Skin irritation
17. Frankincense
(Boswellia frereana)
Skin irritation
18. Garlic
(Allium sativum)
Skin irritation
Dermatitis
Inhibit blood clotting
19. Geranium
(Pelargonium x asperum)
Skin irritation
20. Grapefruit
(Citrus x paradisi)
Skin irritation
Phototoxic
21. Helichrysum or Sunflower
(Helichrysum spp.)
Skin irritation
22. Hemp
(Cannabis sativa)
Skin irritation
23. Horseradish
(Armoracia rusticana)
Skin irritation
Mucous membrane irritation
Toxic
24. Jasmine
(Jasminum grandiflorum)
Skin irritation
25. Juniper
(Juniperus spp.)
Skin irritation
Carcinogenic
Toxic
26. Lavender
(Lavandula angustifolia)
Skin irritation
27. Lemon
(Citrus x limon)
Skin irritation
Phototoxic
28. Lemongrass
(Cymbopogon flexuosus)
Skin irritation
Embryotoxic
29. Lime
(Citrus x aurantifolia)
Skin irritation
Phototoxic
30. Marjoram
(Origanum majorana)
Skin irritation
Inhibit blood clotting
31. Mugwort
(Artemisia vulgaris)
Convulsions
Toxic
32. Myrrh
(Commiphora myrrha)
Embryotoxic
33. Myrtle
(Myrtus communis)
Carcinogenic
34. Orange
(Citrus sinensis)
Skin irritation
35.Oregano
(Origanum spp.)
Skin irritation
Mucous membrane irritation
Inhibit blood clotting
Embryotoxic
36. Patchouli
(Pogostemon cablin)
Skin irritation
Inhibit blood clotting
37. Pennyroyal
(Hedeoma pulegioides)
Skin irritation
Seizures
Liver damage
Toxic
38. Peppermint
(Mentha x piperita)
Skin irritation
Dermatitis
Mucous membrane irritation
Convulsions
Ataxia
Toxic
39. Pine
(Pinus spp.)
Skin irritation
Dermatitis
Mucous membrane irritation
Central nervous system depression
Ataxia
40. Rose
(Rosa spp.)
Skin irritation
41. Rosemary
(Rosmarinus officinalis)
Skin irritation
42. Sage
(Salvia spp.)
Skin irritation
Breathing problems
Central nervous system depression
Convulsions
Seizures
Toxic
43. Sandalwood
(Santalum spp.)
Skin irritation
44. Spearmint
(Mentha spicata)
Skin irritation
Mucous membrane irritation
45. Sweet Birch
(Betula lenta)
Inhibit blood clotting
Teratogenic
46. Tea Tree
(Melaleuca alternifolia)
Skin irritation
Ataxia
Carcinogenic
Toxic
47. Thyme
(Thymus spp.)
Skin irritation
Mucous membrane irritation
Inhibit blood clotting
48. Valerian
(Valeriana spp.)
N/A
49. Vanilla
(Vanilla spp.)
Skin irritation
50. Verbena
(Lippia spp.)
Skin irritation
51. Wintergreen
(Gaultheria fragrantissima)
Inhibit blood clotting
Embryotoxic
Toxic
52. Yarrow
(Achillea spp.)
Convulsions
Toxic
53. Ylang-ylang
(Cananga odorata)
Skin irritation
Dermatitis
The Dangers of Essential Oils for Geckos and Other Animals
In short, most essential oils can have negative effects on geckos. Such adverse effects range anywhere from slight skin irritation to severe toxicity.
Do note that these are not based on studies performed on geckos, snakes, turtles, or any other reptile. Existing studies on the effect of essential oils were mostly done on humans and mammals such as rabbits, rats, mice, and pigs.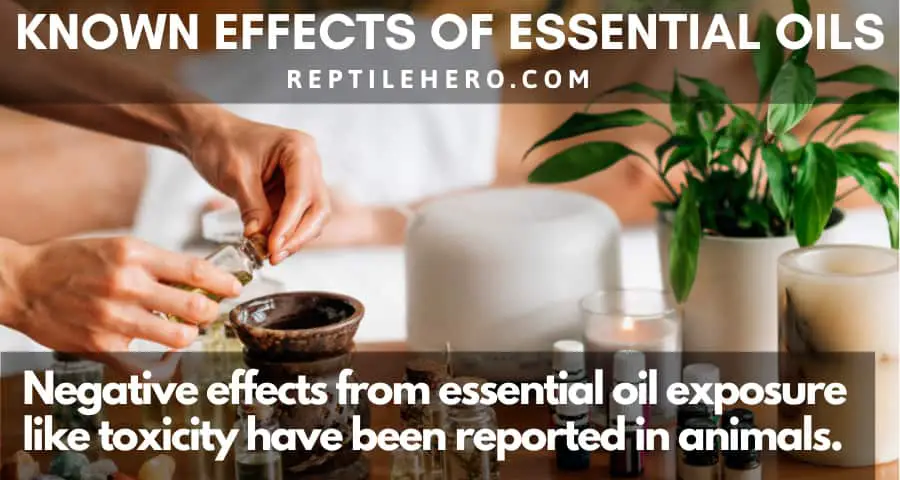 Even then, what may be irritating to rabbits may have no effect on rats whatsoever. Hence, these essential oils may affect our lovely geckos quite differently—for better or worse.
What Essential Oils Can Repel Geckos?
Peppermint, cedarwood, lemongrass, clove, and cinnamon oil are believed to effectively repel geckos. These essential oils repel wild geckos that have entered houses with mixed results, likely due to their dilution.
In fact, these essential oils are the common ingredients in organic lizard repellent sprays and many DIY recipes for reptile deterrents.
But since these are typically high-diluted, such gecko repellents may not be highly effective and definitely not a permanent solution to getting rid of wild geckos that have accidentally entered your house or apartment.
What Makes Essential Oils Dangerous for Geckos? (15 Components)
Most experienced keepers and exotic veterinarians consider essential oils to be dangerous for geckos. More specifically, gecko owners must avoid essential oils that are rich in
1,8-Cineole
α-Pinene
ꞵ-Myrcene
Camphor
Carvacrol
Citral
Cresol
ẟ-3-Carene
Estragole
Limonene
Linalool
Methyl salicylate
Methyleugenol
Sabinyl acetate
Thujones
As I have mentioned earlier, each essential oil is composed of hundreds of distinct individual chemical components. So when possible, I recommend your check your essential oils.
Certain components, including the one I have listed, are known to act as allergens, irritants, carcinogens, embryotoxin, hepatotoxins, neurotoxins, and/or phototoxins. They may also counter each other or worsen such adverse effects. In short, they could be deadly for geckos.
Unfortunately, many companies do not readily disclose this information. As such, gecko keepers and breeders need to familiarize themselves with essential oils that are known to have adverse effects on reptiles and other common pets.
Gecko owners are advised to steer clear of these 25 essential oils:
Anise
Bergamot
Birch
Cedarwood
Cinnamon
Citronella
Clove
Eucalyptus
Garlic
Grapefruit
Horseradish
Juniper
Lemon
Lemongrass
Lime
Orange
Pennyroyal
Peppermint
Pine
Spearmint
Spruce
Tea tree
Thyme
Wintergreen
Yarrow
Discover what other wood oils to avoid in our article on safe woods for gecko tanks.
When is It Okay to Expose Geckos to Essential Oils?
A few veterinary technicians, nurses, and doctors advocate for the use of particular essential oils such as frankincense, helichrysum, lavender, and roman chamomile. With expert guidance and proper dilution, these essential oils have been used in diffusers and salves for treatment. However, there are no studies that validate this.
Professionals who push for the use of high-grade essential oils from "good" plants generally emphasize that geckos and most other animals can have safe and even beneficial exposure when done properly.
Additionally, they point out that most adverse effects from essential oil exposure are generally due to three things in particular: 1) synthetic oils, 2) poor quality/grade, and 3) misuse [3].
They stress that even with pure high-grade essential oils, dilution is key to safe exposure for geckos and animals in general.
For instance, 1 drop on a cotton ball is the standard for passive diffusion. In comparison, only 1–4 drops are needed for water-based diffusers, which must run in a well-ventilated room for a maximum of up to 30 minutes at a time. Finally, carrier mediums like jojoba and coconut oil are necessary for topical application [4].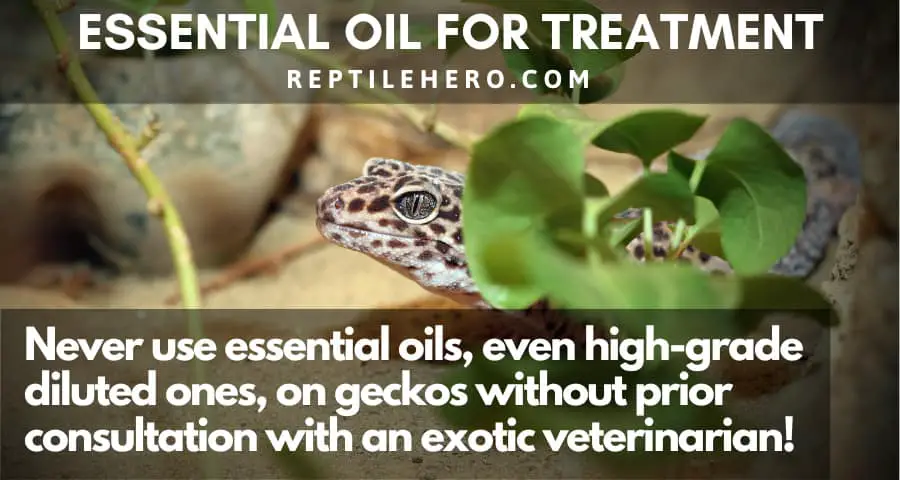 Despite claims about the healing properties of essential oils, it is important to keep the following disclaimers in mind:
Research on the potential therapeutic effects of essential oils is still ongoing.
None have been proven to prevent or cure any disease with certainty.
The production and sale of essential oils are not regulated.
For these reasons, I do not recommend treating essential oils as medication and using it around our precious geckos. But if you are inclined to try using essential oils, please seriously consider the potential dangers and consult your pet's veterinarian beforehand.
Further Questions
Are certain parts of a gecko's body more sensitive to essential oil?
Do not use essential oils on or around the eyes, nose, lips, ears, and genitals of geckos as those are sensitive body parts—especially for strong and undiluted essential oil mixtures. Plus, having essential oil applied in those places has a high risk of getting absorbed internally through such orifices.
What should you do if your gecko gets essential oil on it?
If a gecko gets essential oil on it, carefully rinse the area with a neutral soap without fragrances and lukewarm water. Then secure the reptile in its temporary housing and secure the bottle of essential oil that was spilled. Go to the nearest veterinary hospital for an emergency visit.
How much should you dilute essential oil for animals?
For topical application, experts advise pet owners to first dilute a high-grade essential oil to only 0.25–1% in a carrier oil like coconut oil. This is equivalent to 1–3 drops of essential oil per 1 tablespoon (15 ml) of the carrier medium.
Can essential oils kill geckos?
No concrete data on gecko death due to essential oils are available but there are reports of geckos dying by ingestion and inhalation of undiluted essential oils of varying kinds. Moreover, wintergreen oil, rich in methyl salicylate, is known to have a mortality rate of up to 60% in cases of poisoning.
Summary of Essential Oils for Geckos
Essential oils are generally all-natural products derived from plant materials. However, this does not make them harmless for geckos—and most other animals. In fact, they have been documented to have minor, moderate, and severe effects on both humans and animals.
Some veterinary professionals maintain that certain essential oils are safe and therapeutic for geckos. But these claims are not currently supported by extensive data and studies.
The overall effects of essential oils on animals—and reptiles in particular—is not well understood. As a result, many keepers, breeders, and reptile experts strongly advise against the use of essential oils anywhere near and directly on geckos.
Sources
[1] https://www.takingcharge.csh.umn.edu/what-are-essential-oils
[2] https://www.researchgate.net/publication/277679943_Essential_oil_profiles
[3] https://mercola.fileburst.com/PDF/HealthyPets/DrBecker-DrMelissaSheltonInterview.pdf
[4] https://www.canr.msu.edu/news/essential-oils-an-overview